April 5, 2001 black/bay Trakehner colt by Happy Hour out of Korinna by Memlruf.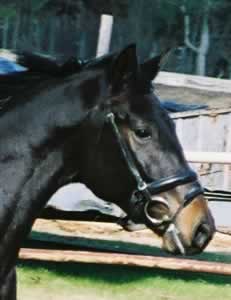 Kosmisch ('Cosmic' in German) was imprinted at birth and has been handled daily. He's extremely easy-going and trusting. Even as a nearly 3-year old stallion, Kos is easy.
He has three excellent, well balanced gaits with a great walk & an exceptional trot.
Kosmisch should finish out near 16.2h and his potential as a dressage prospect or eventer/hunter is excellent. He is also a futurity entry with fees paid through Summer of 2004.
With his excellent breeding, good mind, conformation & movement, he's also a good stallion prospect. His sire, Happy Hour, is the son of Induc, rated one of the top Dressage producing stallions in Germany based on the performance records of his offspring. Induc also had an excellent performance career, and his son Happy Hour is following in his footsteps - very talented, with a great mind.
Kosmisch is also destined for a great performance career. In his first show (Texas Dressage Classic April 2002), he took a first in his yearling class and went on to take Reserve Champion Colts. The judge commented that "the more he moved, the more uphill he got".
4/2003, Kosmisch placed 1st in the colts of 2001 class & 3rd in the colts championship & trakehner classes.
9/2003, Kosmisch placed 2nd in the colts of 2001 class & 5th in the USDF Breeders Region 9 Finals.
11/03 - Kosmisch named #1 USDFBC All Breeds Trakehner Colt of 2001
04/02/04 - Kosmisch placed 1st in colts of 2001 class & 1st in the colt championship at Pro Am in Glen Rose, TX. Kos also takes the highest score for all the materiale classes.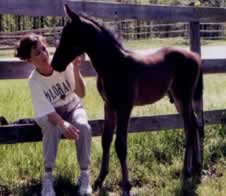 3 Days -
3 Weeks -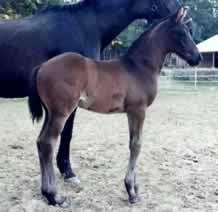 3 Months -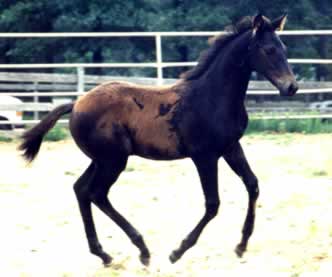 Above Photos by Kari Cassel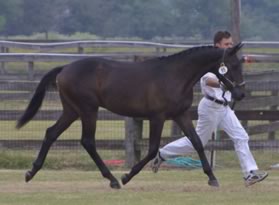 September 2002 photo by Pam Norton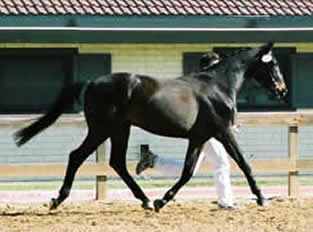 April 2003 photo by Kari Cassel
18 Months