February 23, 2004 chestnut Trakehner filly by Leonidas out of Tannenelfe *E* by Pregelstrand. This baby had a rough start, losing her beautiful mom only an hour after she was born. But Flugleicht stepped in and adopted her immediately and has been an absolutely wonderful mom - providing comfort, companionship, safety, and letting her nurse to her heart's content. Now if Flugleicht would just get some milk!!!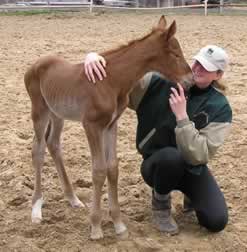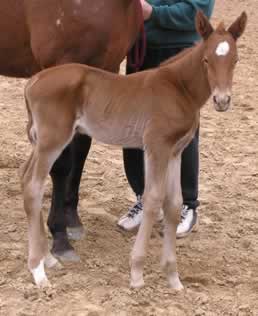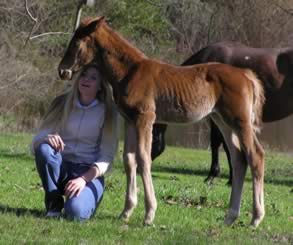 ---
Froschkuss: March 3, 2004 Bay filly by Leonidas out of Fire Angel by Emeer. This filly was standing up running circles around mom within about 15 minutes. She's HUGE, strong, and so very well coordinated! Airs above the ground are no problem!!! Mom's 17h tall, so you can see how big baby is at 3 days old...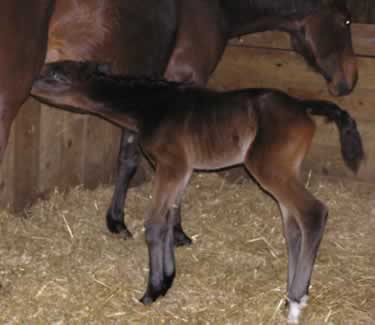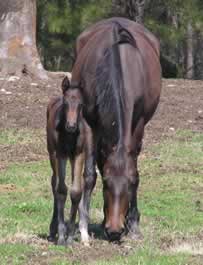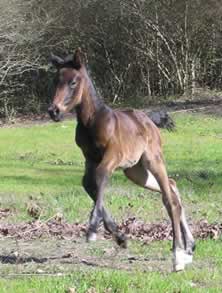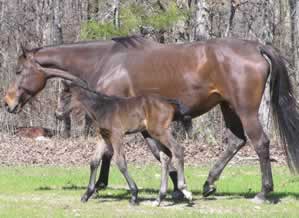 ---
Catwalk: March 4, 2004 Black filly by Leonidas out of Classical Jazz by Fabius. A carbon copy of mom, this filly has an absolutely beautiful face. She's strong, and well coordinated and shows the promise of great movement.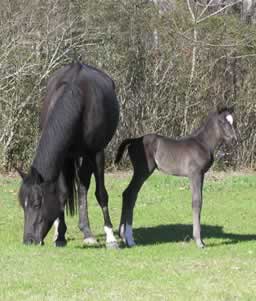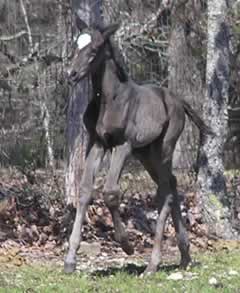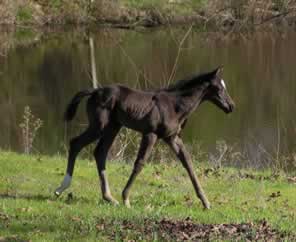 ---
Last but not least...
Cassidy. Born May 9 (mother's day), he's got great bone, wonderful knee action & impulsion, and the best personality. He'll be black or black bay.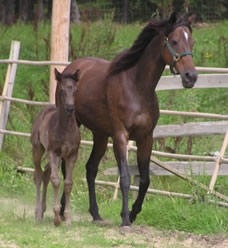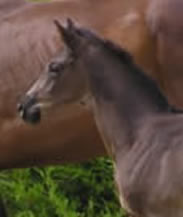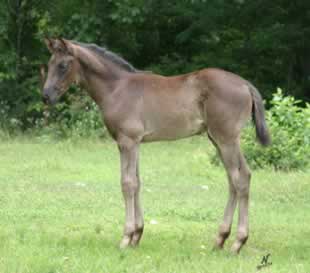 (Photo by Pam Norton)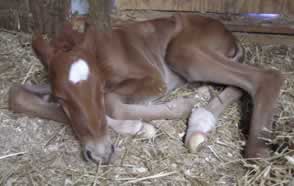 Pedigree
Ramzes (AA)
Condus
Constanze
Leonidas
Siegbert
Libella V *E*
Liberia
Tannenelfe's 2004 filly
Morgenglanz
Pregelstrand
Pelerissa v. Sch.
Tannenelfe
Vivaldi
Tannenlied *E*
Tannenland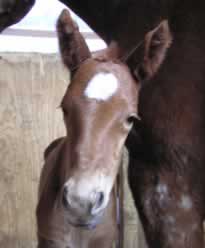 ---
Froschkuss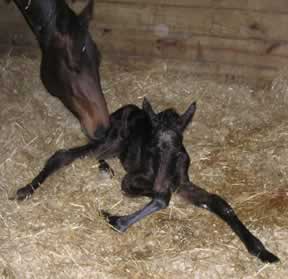 Pedigree
Ramzes (AA)
Condus
Constanze
Leonidas
Siegbert
Libella V *E*
Liberia
Froschkuss
Habicht
Emeer
Elfenquelle
Fire Angel
Flugwind
Flugleicht
Three East xx
---
Catwalk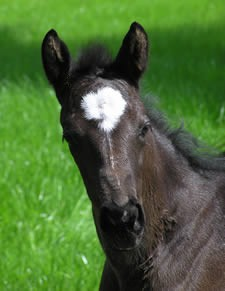 Pedigree
Ramzes (AA)
Condus
Constanze
Leonidas
Siegbert
Libella V *E*
Liberia
Catwalk
Memelruf
Fabius
Feine II
Classical Jazz
Dance Center xx
Center Swing
Flying Back xx